Two 3 Acre Playgrounds
20' x 40' In-ground Bone-shaped Pool!
1 Acre Jungle Pup
3 Acres Wooded with a Pond
Daycare Transportation
Climate Controlled Indoor Playground
(for inclement weather)
In-House Overnight Stays

What Others Are Saying:
From Lisa, Gabi and Rodrigo

"Sorry about the delayed response! I was writing you a Merry Christmas email and noticed I had missed your note - my apologies!
Lisa is doing great - I am sure she misses you all a lot, and the snow! But we've been doing our best. I couldn?t find her a nice place like Lucky Puppy here (my dad warned me I never would, that no place would be so special - and I have to agree) so my husband is working from home and I haven't travelled much. We've been taking Lisa to the beach every weekend - she loves it. And now for the holidays we are with my family on a house with a pool - needless to say, Lisa spends most of her time fetching in the water!...
I always think of you and wish you and your family the best. You mean a lot to all of us and we will always be thankful for everything (and hoping to come back one day!). Lisa went to a local dog park today and my dad and my husband mentioned she was the best dog there (did not bully or was bullied, was just minding her own business and having fun) because she was educated in the Harvard of puppies - Lucky Puppy :)
Where can I buy the calendar? I didn't know it was ready already so my apologies if I am late! But if possible let me know how to buy it - I want to get one for myself and one for my parents!

Merry Christmas!
Read More [+]
From Connie and our guest Sadie:

"I can't tell you how enjoyable my trips are knowing that Sadie Marie is well cared for by you. Thanks for having such a great Doggy Daycare that we both love!
I can't tell you how much I love your postcards as well - they are kept in a special album for me to enjoy.
...Sadie & I are looking forward to many more happy days at "Lucky Puppy"
Sincerely,
Connie
This is a song I sing to Sadie when we are getting ready to come & visit you. She goes wild - jumping at the door until I open it & she gets in the car.
Set to the tune of "Tra-la-la-boom-dee-ay"
Tra-la-la-boom-dee-ay
It's Sadie's favorite day,
Tra-la-la-boom-dee-ay
It's Lucky Puppy Day.
Tra-la-la-boom-dee-ay
It's Sadie's favorite day,
Her day to run & play,
It's Lucky Puppy Day!
Read More [+]

From Sandrine & Brian and guest Emma:
"To the Lucky Puppy staff, Thanks for taking such good care of Emma during our vacation. we can tell she had a blast!! She will come back to see you soon. "
Loren & Nathan and our guest Cassidy:

"To everyone at Lucky Puppy-,I want to thank you for taking such good care of Cassidy when she stayed with you a couple of weeks ago. She had so much fun that she slept for about 2 days straight when she got home! I am so happy that we have a place we can leave her and trust that she will be safe and well-loved...
Since she has returned home, we have seen a marked improvement in her doggy etiquitte - the way she approaches and plays with other dogs, and we have you to thank for that. We love the picture postcards we received and Cass will be back next time we go out of town."
Read More [+]
From Karen & Paul and Guest Freyja:

"We absolutely LOVE Brenda the owner and her entire staff at Lucky Puppy! They are all very nice people and are wonderful with the dogs. We have been taking our dog to Lucky Puppy for 4 + years now This is the only place that we are able to leave our dog when we go on vacation and not have any worries at all. Not to mention that our dog is also on her own vacation. She loves running, playing, sleeping, and swimming with all of her dog friends....
They have acres of fenced in land and a great swimming pool (just to mention a few of the amenities). She is exhausted when we pick her up. LOL! She has such a great time! Lucky Puppy came highly recommended to us by friends. We are so happy with all of our experiences with Lucky Puppy that we know you would be too. That is why I just had to sit down and write this review! Thanks Brenda and staff!"
Read More [+]
About Us

Lucky Puppy is proud to say we are 100% cage free! What Does this mean to you and your lucky puppy? Unlike most daycares and overnight facilities your loved one will never see the inside of a cage while they stay with us. What you see in our photo gallery is what you get; wide open spaces for all of our furry friends to play in. Our guests don't seem to mind that the cages are missing at all!
Romp, play, and run!
Our 3 acre playground is fully supervised by "Pack Leaders" during playground hours. Our Pack Leaders are extensively trained in canine body language and behavior, as well as pet first aid to ensure your furry family member has as much happy, healthy, and safe fun as possible. This is where our guests spend most of their fun-filled day.
Lifeguard always on duty!
In our photo gallery you can see some of our favorite pictures taken in our new 20X40 in-ground bone-shaped pool. Is your loved one too small for the deep end? Don't worry, our new pool has an 8' tanning shelf for those a little less adventurous.
Overnight stays!
Daycare is included in the vacation cost. Your loved ones will be on the playground from 9am to 5pm. When the playground closes, they come in the house and become part of the family. They do not go to bed until we go to bed, and that is when when we separate them according to size and temperament. Some may sleep in the living room, some may sleep on the office futon, and others may have their own room in our doggy village complete with a crib sized youth bed, calming CD music, fluffy pillows, blankets, and toys for everyone to be as comfortable as possible!

Nature Trails!
When they're not too busy playing with all of their new friends, we take them out on our nature trails. As you see in our photo gallery, the 7 acres of Nature Trails gives us a beautiful place to enjoy a walk or run with your dog. The Nature Trails have been completed with an additional fully-fenced, 3 acre playground, which includes a wooded area; a pond; and tall grasses in which to explore.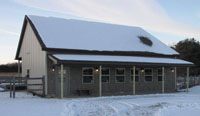 Indoor Facility
Our 1300 sq' indoor playground is open! The kids will still primarily play outdoors, however, we now have a nice cozy indoor facility to play - and train - in during extreme weather conditions.
Self-Serve Dog Wash
Here at Lucky Puppy, we strive to make a difference in the lives of our clients and their 4-legged kids. Mud can be a huge problem when your kids play outside all day. Therefore, we have installed a self-serve dog wash. This is not a grooming service. This is a wash and dry only. However, we now have a bathing station complete with a grooming tub; shampoo; towels; hair dryer; table; and various brushes and combs for your use. As with everything here at Lucky Puppy, we would like our grooming tub to run by appointments only. This enables us to give you the best individualized service possible. We offer 2 services:

*Self-serve dog wash for $12; and
*Full service dog wash for $24.

This service is offered for clients only. Your dog must be a Lucky Puppy to use the bathing facilities.
Our Commitment to Safety
Lucky Puppy has taken the Off-Leash Play Pet Center Safety Pledge! We proudly commit that our dog daycare program has been designed for the safety of all dogs. In taking the pledge we strive to ensure the physical safety of each dog and our goal is for every dog to go home from our center behaviorally and emotionally better than when they arrived.