Two 3 Acre Playgrounds
20' x 40' In-ground Bone-shaped Pool!
1 Acre Jungle Pup
3 Acres Wooded with a Pond
Daycare Transportation
Climate Controlled Indoor Playground
(for inclement weather)
In-House Overnight Stays

What Others Are Saying:
Note from Debbie and our friends Maizey and Chance:

We just love getting these pictures! We love the feeling of knowing our dogs are in wonderful and loving hands that truly care. Thank you all for making us feel that when we get to go on a great fun vacation....so do our dogs?? You guys are the greatest!! Xoxo
From Ellen B with guests Riley & Stella:

"We got three postcards from you, or should I say "the girls", and they were just ADORABLE! So cute! I was a little worried about Riley feeling a little stressed out at "camp", but based on that picture of her "relaxing" on the couch, she looks pretty stress-free!! Looks like she was as comfortable as if she were home! THANKS for taking such good care of my girls! They are looking forward to their return visit in early June!! Have a great weekend! Hope you are feeling all better! Thanks!"
From Our Guest Garrett:

"I am writing to wish you a Merry Christmas! It is sooo great that I get to come over and play once a week with my friends. I have loved every minute of swimming in the pool, and getting to play with my pals while my mom and dad are at work. I have bundles of energy but you are always so patient with me. You are the best and I am one LUCKY PUPPY!"
From Evan & Chrissy and guest Lucy:

"Thank you for taking care of Lucy for us! We loved the postcards you sent us with her friends! We just wanted to make sure we let you know how nice your day care facility is and how much we love sending Lucy to Lucky Puppy because she just loves it!"
From Guest Zelda:
"Can I leave a review? I have been coming to Lucky Puppy for almost six years. Now my sister (another chocolate lab) comes, too. We both LOVE IT.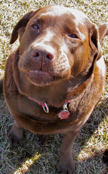 First I started by boarding during my humans' vacations. But we told our Mom that we HAD to go at least once a week just to get time with other dogs (much as we love people) and to run like crazy from 8am-5pm. We achieved such status in the neighborhood when the other dogs saw Kevin pull up in the Lucky Puppy transport van. Brenda really LOVES me and I love her.
She never puts me in a cage. If I stay over or am tired at break time I can sleep on the couch or on crib mattresses in the house. There is a wonderful pool in nicer weather and I adore swimming. It is good for my arthritic leg. In bad weather I can go in the heated barn. But I love snow so much I really love the 3 acre playground. Plunging into the Jungle Puppy long grass area makes me happy, too. My life wouldn't be what it is if I just stayed home all of the time. Thank you Brenda."
Read More [+]
From Zelda's Sister Kira: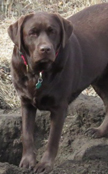 "Last night I fell asleep right in the hall after dinner. What caused an energetic, even frenetic, pup like myself to do that? I played ALL DAY and I was tired and happy. I had many good dreams from the experiences I had all day. Brenda is teaching me better manners so that I can have even more friends."
Note from Dan, Dee and Our Guest, Rusty:

"We would like to acknowledge our very great appreciation for the impressive care, excellent staff and wonderful accommodations at Lucky Puppy. Prior to your service my wife and I would be concerned as to Rusty's care and wellbeing while we were on vacation which would diminish from our enjoyment. We are now able to completely relax and enjoy our trips thanks to your innovative lodging and the ability for friendly email contact during that period is a great benefit.
Traveling a distance, passed many pet day and vacation care establishments, is well worth the drive for the excellent attention our cherished Rusty receives in your care! We have researched extensively for the most appropriate care our treasured family member would receive while on vacation. Your pleasant skillful staff, cage free environment, the over seven acres of fenced playground, large in ground swimming pool with convenient different depths, a huge training barn for incumbent weather, constant staff supervision and the usage of the major part of your personal home during evenings and nights well-matched our desired care and more. Your requirement of mandatory shoot records and that you always preform a two hour temperance assessment prior to accepting any new pet provides a significant measure of confidence to owners of their pet's safety. Also your pictured post cards of Rusty during his stay are a very welcome and thoughtful touch.
As for the past five years we are looking forward to our care free yearly vacation with Rusty in your care. We can't thank all of you enough for the kindness and peace of mind rendered to Rusty and ourselves!!!!
With Much Appreciation to Brenda and Staff, Dan, Dee and Rusty of Course'"
From Jody, Bob and Guest Udee

Thanks so much for the postcards you send us. Makes me laugh that the most prevalent theme of the pictures is Udee in the mud. Thanks for being such an awesome bunch of dog lovers.
Read More [+]
Need to contact us?
If you have any questions, please feel free to contact us at any time. Because we do business out of our home, everything at Lucky Puppy is done by appointment.
Appointment times for dropoffs are:
7am-Noon Monday - Friday (we are closed for lunch from 12:30-2pm)
9am- Noon Saturday
Appointment times for pickups are:
7am-7pm Monday - Friday (we are closed for lunch from 12:30-2pm)
9am-7pm Saturday
8:30-9am and 1:30-7pm Sunday
(Sunday is a day of rest for everyone. Appointment times must be very specific. If you are driving home, please let us know and keep us posted as to your arrival time.)
All dogs must be checked-in by Noon! This will give us time to safely integrate your dog into the pack before lunch. It will also give your dog at least ½ day of daycare so they will rest well at night and not disrupt the pack because they want to play.
Lucky Puppy
Country Doggy Daycare
8721 Yensch Rd.
Maybee, MI 48159
Phone: (734) 58-Puppy or (734) 587-8779
Fax: (734) 587-8800
Email Customer Service: bren@myluckypuppy.com