Lucky Puppy is proud to say we are 100% cage free! What Does this mean to you and your lucky puppy? Unlike most daycares and overnight facilities your loved one will never see the inside of a cage while they stay with us. What you see in our photo gallery is what you get; wide open spaces for all of our furry friends to play in. Our guests don't seem to mind that the cages are missing at all!
Romp, play, and run!
Our 3 acre playground is fully supervised by "Pack Leaders" during playground hours. Our Pack Leaders are extensively trained in canine body language and behavior, as well as pet first aid to ensure your furry family member has as much happy, healthy, and safe fun as possible. This is where our guests spend most of their fun-filled day.
Lifeguard always on duty!
In our photo gallery you can see some of our favorite pictures taken in our new 20X40 in-ground bone-shaped pool. Is your loved one too small for the deep end? Don't worry, our new pool has an 8′ tanning shelf for those a little less adventurous.
Overnight stays!
Daycare is included in the vacation cost. Your loved ones will be on the playground from 9am to 5pm. When the playground closes, they come in the house and become part of the family. They do not go to bed until we go to bed, and that is when when we separate them according to size and temperament. Some may sleep in the living room, some may sleep on the office futon, and others may have their own room in our doggy village complete with a crib sized youth bed, calming CD music, fluffy pillows, blankets, and toys for everyone to be as comfortable as possible!
Nature Trails!


When they're not too busy playing with all of their new friends, we take them out on our nature trails. As you see in our photo gallery, the 7 acres of Nature Trails gives us a beautiful place to enjoy a walk or run with your dog. The Nature Trails have been completed with an additional fully-fenced, 3 acre playground, which includes a wooded area; a pond; and tall grasses in which to explore.
Indoor Facility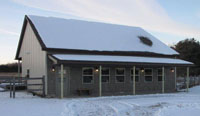 Our 1300 sq' indoor playground is open! The kids will still primarily play outdoors, however, we now have a nice cozy indoor facility to play – and train – in during extreme weather conditions.
Self-Serve Dog Wash
Here at Lucky Puppy, we strive to make a difference in the lives of our clients and their 4-legged kids. Mud can be a huge problem when your kids play outside all day. Therefore, we have installed a self-serve dog wash. This is not a grooming service. This is a wash and dry only. However, we now have a bathing station complete with a grooming tub; shampoo; towels; hair dryer; table; and various brushes and combs for your use. As with everything here at Lucky Puppy, we would like our grooming tub to run by appointments only. This enables us to give you the best individualized service possible. We offer 2 services:
*Self-serve dog wash for $12; and
*Full service dog wash for $24.
This service is offered for clients only. Your dog must be a Lucky Puppy to use the bathing facilities.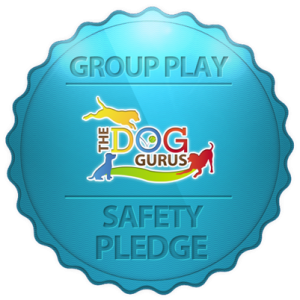 Our Commitment to Safety
Lucky Puppy has taken the Off-Leash Play Pet Center Safety Pledge! We proudly commit that our dog daycare program has been designed for the safety of all dogs. In taking the pledge we strive to ensure the physical safety of each dog and our goal is for every dog to go home from our center behaviorally and emotionally better than when they arrived.