News: The In-Ground Pool is here!
Click here to view our pool videos on YouTube!
Lucky Puppy is proud to offer a variety of services for your loved one!
Training & Education
We offer several different training classes to fulfill your needs and make your home happier for ALL members of your family. Please review the programs below to see a full course description for each type of session. All students must show proof of current vaccinations, if not already on file. All classes are lead by certified instructors.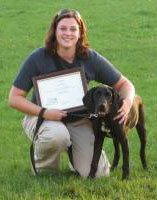 Call us at the number above, or email bren@myluckypuppy.com for more information!!
Basic Obedience and STAR Puppy:
All Basics for Dogs of Any Age
Our Basic Obedience and STAR Puppy classes are very similar, minus the play time. Puppies are very eager to learn! And puppy parents are VERY eager for their puppies to learn. So why not take advantage of that situation and teach them ALL we can, in 7 weeks! Our STAR Puppy class is like no other. In this class, you will learn:
Attention (look at me quickly)
Sit
Down
Stay
Leave-it
Heel
Loose Leash Walk
Recall (come)
You will also learn to solve all of your problem behaviors, such as:
Jumping
Potty Training
Digging
Door Crashing
Puppy Nipping & Mouthing
Excessive Barking
Inappropriate Chewing
The AKC STAR portion of the class will help ensure proper parenting skills, such as:
Proper Handling (including ears, teeth, nails)
Appropriate Exercise
Proper Identification
Pet Nutrition
Reaction to Distraction
Safely Greeting Strangers
Avoiding Separation Anxiety
And last but not least, our students under 1 year of age will enjoy 10-15 minutes of play time at the end of each class.
PLAY TIME*
Please note that play time is dependent on the age of your pup and their play style. All pups must be under 1 year of age and/or have proper social skills in order to socialize at the end of each class. Play time is a time for social dogs to be social —not for dogs to become social.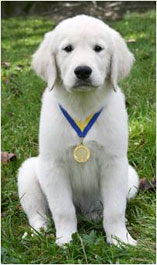 It is a time for them to learn, have fun and become confident. Our certified instructor, who is also proficient in canine body language and behavior, will make a safety determination, if we feel a pup is overwhelming others in group play. For those dogs that are older or have inappropriate play styles, you are welcome to attend the classes but will need to leave a few minutes earlier than the others to allow for playtime. The parents and pups that leave a bit early will have all the skills they need to move forward with an amazing basic obedience class. However, there are no guarantees that your pup will socialize after each class. Refunds will not be issued if a dog is unable to play.
Each class is semi-private and will be conducted with no more than 6 dogs. Therefore, there will be a lot of one-on-one time. The cost of this 7 week training class is $245. We do ask for a $50 deposit to hold your position in the class, with the remaining amount to be paid (by cash or check) the first week. AKC STAR Puppy testing will be conducted in week 7, followed by supervised group play. The cost of AKC STAR Puppy test is included in the cost of the class.
Advanced Obedience
The goal of this class is to increase your dog's reliability when given a command. The puppy/beginning class gives you a solid foundation for training. In the advanced class you will build on that foundation by adding a level of difficulty to each skill. We will concentrate on the 3 D's (distraction, distance and duration). Distractions will be added to behaviors your dog already knows to ensure that your dog will focus on you and not the distraction. Distance will be added to gain reliability to cues when you are across the room or even if you leave the room! Duration will be used to build a reliable "stay" cue. We will build to a three minute stay which will help your dog learn to remain in position until released. We will focus again on the controlled walk and learn several new cues (commands) and tricks. Since training should be fun, for both you and your dog, we will also incorporate some games that utilize all learned skills.
The cost of this 5 week class is $175. We ask for a $50 deposit with the remainder payable at the beginning of the first class.
Super Star Puppy and Canine Good Citizens
This course is designed to help your dog earn his "Canine Good Citizen" certification. Your dog will work on the skills he or she needs to be a well-mannered pet as defined by the American Kennel Club. Those skills include:
Accepting a friendly stranger
Sitting politely for petting
Appearance and Grooming
Out for a walk
Walking through a crowd
Sit and down on command/staying in place
Coming when called
Reaction to another dog
Reaction to distractions
Supervised separation
Whether you decide to earn the Canine Good Citizen certificate or not this class will help your dog become a welcome guest wherever he or she goes.
Each class is semi-private and will be conducted with no more than 6 dogs. Therefore, there will be a lot of one-on-one time. The cost of this 7 week training class is $245. We do ask for a $50 deposit to hold your position in the class, with the remaining amount to be paid the first week. AKC Canine Good Citizens testing will be conducted in week 7. The cost of the Canine Good Citizens test is included in the cost of the class.
Puppy Enrichment
Puppy Enrichment was designed, primarily, for daycare pups that may begin showing signs of problem behaviors as they begin to grow into their adolescence. Just like 2-legged teens, sometimes pups need a little additional guidance as the hormones kick in. Puppy Enrichment can help shape their behavior, as they grow. This is how a day of Puppy Enrichment at Lucky Puppy looks:
Your dog will be in a smaller play group (generally about 10 dogs) for the majority of the day. This playgroup will include veteran Lucky Puppies that know the rules and how to follow instruction flawlessly, in order to set your dog up to succeed. The small group Pack Leader's attention will be primarily on correcting your dog's inappropriate behavior throughout the day to ensure safety and a fun time to be had by all.
We will work with your dog, practicing Lucky Puppy verbal cues, that are often used on the playground, for the majority of the day. In addition to daycare playground time, your dog will have a one-on-one private training session, with a certified trainer, each day. This will allow him or her to learn and practice some skills that will help to ensure success on the playground. These skills will include, but may not be limited to, the following:
Attention
Sit
Stay
Come Touch
Easy
Leave it
Leave the Baby
Up
Off
The cost of Puppy Enrichment is $46 per day. The longevity of this program depends on the dog and how much effort Mom & Dad are willing or able to put into practice at home. Lucky Puppy trainers are excellent about letting parents know exactly where we are in training at all times, and when we think your dog will be ready to Graduate with these important skills. Each day they are here, when we send them home, we will give you updates on their behavior as well as exercises to practice on their "off" days.
Master the Walk:
The walk is an important aspect of the relationship between you and your dog!
Join us on our seven acres of Nature Trails and learn to train your dog to respect you as his or her leader during the walk. At the end of the course, your dog will have mastered the loose leash walk, EVEN DURING DISTRACTIONS!
This class is conducted using positive reinforcement training techniques. The cost of the class is $175 for a 5 week course. Class size is limited to 6 so there will be plenty of individual attention. We ask for a $50 deposit with the remainder payable at the beginning of the first class. Please note that Basic Obedience is a pre-requisite for Master the Walk. Your dog must know his basic cues, such as sit, leave-it and attention.
As a reminder, classes will be conducted outside so please dress accordingly.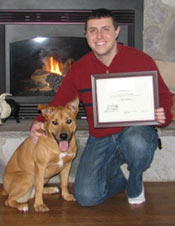 Leadership:
Is your dog not listening to you when you know he understands?
Does he bark at you until you respond to his demands? Does he take things off the counter when you're not looking (or even when you are)? Does he jump on you when you have food in your hands? Does he pull you everywhere when walking? Does he crash through the door (and you) when he gets to go bye-bye? If the answer to any of these questions is "yes," this class is for you!
Dogs are animals and there must be a leader in their pack. If there is no leader, they will assume the position, which can create an amazing amount of stress and unbalance for your dog – not to mention a very unhappy home for you. We will show you how to recognize inappropriate behavior; establish rules; enforce them in a balanced way (using the time-out method); and maintain social order in your home. Once your dog respects you as his leader, he can relax and enjoy life knowing you will take care of everything for him. And you can relax and enjoy your newfound respect and adoration. Please call to schedule your private session.
This 90 minute class is for you only – not your dog. (Yes, we are the problem!) Cost for the session is $60 per hour. We ask for a $50 deposit with the remainder payable at the end of the class.
Fun & Games!
Is just that! This is an ongoing class that will be conducted on a weekly basis, for one hour each week. This class is designed to sharpen your dog?s skills and confidence through playing games, while creating a unique bond with you. **Please note: Basic obedience skills and a temperament test are prerequisites for this class.
Canine Massage:
Calm & connect with your dog using this beneficial technique
Canine massage has extraordinary benefits: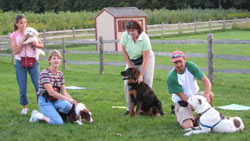 Enhances bonding and relationships
Restores and improves flexibility
Reduces stiffness and discomfort
Relieves stress and anxiety
Promotes healthy skin and coat
Helps with behavioral and emotional issues such as fear, abandonment, abuse, uncertainty or pack status, and grieving
Please note that these classes are for personal use only (with your dog). This class will not "certify" you to perform pet massage on other animals than your own. The cost of the class is $50 per hour for private; and $50 for semi-private. We recommend a minimum of 3 one hour sessions.